ArtyCrafty can be contacted by phone or email, or use the online shop. BUT we would also love to see you in the shop - see our opening hours when a warm welcome will await you whether you want a pencil or a boxed set of oil paints. We are the only specialist arts and crafts shop in Crewkerne and surrounding areas - if we do not have what you require in stock we would be only too pleased to try and order it in for you.
Ask us for details of our latest offers and the new arts and crafts arrivals - new paints and brushes, plus papers and card, Construction Kits, cross stitch the list is endless.
When phoning you do NOT have to 'push buttons' - provided we are open and not overly inundated with customers you will speak to either Bob or Anne, the owners - if we cannot take your call there and then, just leave a brief message on the answering machine and we PROMISE to get back to you as soon as we can.
01460 78 5 74 or click the link below to email us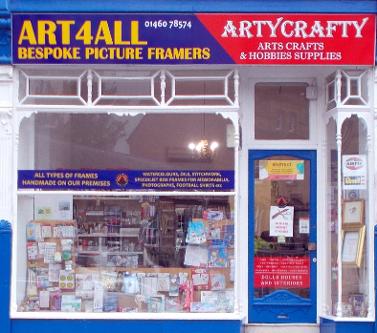 There is free 30 or 60 minute parking right outside the shop or the car park in Abbey Street is VERY reasonable.
Further parking is available by Lidls & Waitrose with access via the walkway alongside The George Hotel
We do not close for lunch !! and a warm welcome awaits you.