Can't wait to go shopping?
Use the buttons below!
Are you Artistic?
Do you want to earn a fair living doing something you enjoy?
If so, have you considered becoming a Picture Framer and running an Art/Craft shop?
The owners of Art4All & ArtyCrafty need to retire!!!
Therefore, the business is up for sale (at a very reasonable price) and the current owners would like to talk to you.
Please enquire in the shop, or, if you prefer confidentiality, then talk to the agents:
Nationwide Businesses Ltd on telephone number 020 8763 1777
XMAS HOURS 2023
Xmas Eve 10.00 am to 2.00pm then closed until
we re- open @ 9.30 am
Tuesday 2nd January 2024
IMPORTANT NOTICE
Last dates for framing are:
Box Framing (Football Shirts etc)
11.30 am 14th December 2023
Standard Framing
9.30 am 20th December 2023
AFTER THESE DATES WE CANNOT GUARANTEE XMAS DELIVERY
GIFT CARDS
We can now offer gift cards for use in our online shop
just enter the code
AC1001
in the search box below
Not sure what you are looking for or where to find it on our site - Just use this SEARCH box!
FREE DELIVERY
on all orders of £30 and over
Below £30 a flat Rate charge of £3.95 per order
(UK Mainland ONLY)
(Sorry! but we have had to impose a minimum order of £5 where shipping is required due to increases in the postal and courier costs)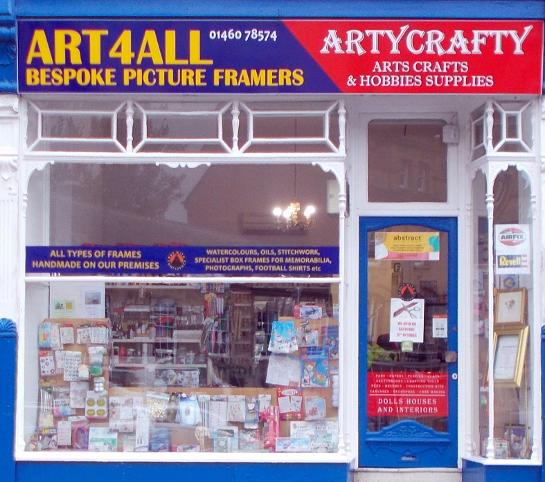 For our Artist customers
we can supply:
Oil paints
Acrylics
Watercolours
Brushes
Palette Knives
Palettes
Canvases
Papers
Pencils
Pens


For our Craft customers
we can supply:
Clays,
Mosaics,
Cross-Stitch,
Quilling,
Card Making (from kits or individual materials)

Decoupage Sheets

(pre-cut and standard)
Dolls Houses & Interiors our speciality
etc. etc the list is endless!


Items from most of the leading manufacturers with specialist items and offers available
ALL at competitive prices
All our customers are important to us
- even the smallest ones!!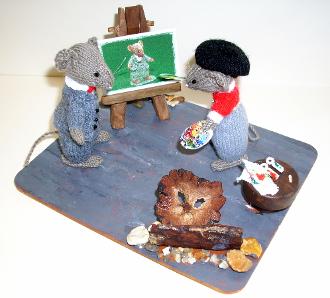 If your completed art or craft work needs framing then our sister company
Art4All
will be only too pleased to make a bespoke frame for you - visit us in the shop or see examples of our work at
5 Market Square
Crewkerne
Somerset
TA18 7LE
01460 78 5 74
We are delighted to provide a shop to arty and crafty people not only in Somerset but in Dorset and East Devon as well. The delights of Crewkerne as a Market Town with plenty of restaurants, pubs and coffee shops plus the incredible antiques fraternity makes a visit to us and the town a great day out!
We hope to see you soon